Feature Story
---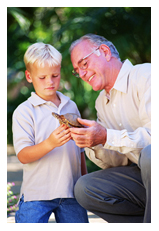 A 100-acre farm in southern Nebraska had been in William North's family since 1914. Although the Iowa banker no longer wanted the responsibility of a non-resident owner, he knew selling the land would mean paying thousands of dollars in capital gain tax.
A Unitrust with Lutheran Hour Ministries helped William North accomplish his goals-and more! Instead of selling the land, he transferred it to a Unitrust.
Through this estate gift, Mr. North paid no capital gain and enjoyed other tax benefits. The Unitrust provides regular, lifetime income payment to him and Lorraine, Mr. North's wife of more than 60 years. When the Norths are called home to be with the Lord, proceeds from the Unitrust will help strengthen Lutheran Hour Ministries' global media outreach.
"It was a win-win situation," says Mr. North. "The farm was sold.I paid no capital gain and supported a ministry I care about."
Lutheran Hour Ministries Gift Planning Department worked closely with Mr. North. "They answered all my questions and were very helpful," he says. "I would recommend them to anyone looking for gift planning assistance."
*Names in this testimonial were changed to protect the donors' privacy.
---
"Everything we have is a gift from God.We want to be good managers of those gifts. .Through Lutheran Hour Ministries, we have the opportunity to bring God's Word to so many more people and so many more countries. It's very exciting!"
-E.H., Sun City, AZ
Charitable Remainder Unitrust
---
"We have drawn much strength from 'The Lutheran Hour.' Gift Annuities through Lutheran Hour Ministries will help provide support for its continuation. If our gift helps bring salvation to just one soul, it is well worth it."
-W.K., Fremont,NE
Gift Annuity
---
"We see all the accomplishments that are being done (by Lutheran Hour Ministries) and think 'WOW!' we really are doing something here! Christ tells us to go and tell the nations. Supporting Lutheran Hour Ministries (through our estate plan) is a way we can do that."
-C.G., Fairmont,MN
Beneficiary Designation in Will