Tax-Free IRA Gift Opportunity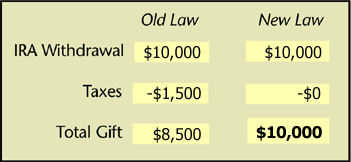 The Tax Relief, Unemployment Insurance Reauthorization and Job Creation Act of 2010 allows owners of individual retirement accounts (IRAs) to make tax-free rollovers up to $100,000 per year from their plans to qualified nonprofits, including Lutheran Hour Ministries (LHM). This gift giving opportunity provides you with an excellent opportunity to make a special gift to LHM and, at the same time, lower your taxable income for 2010 and 2011. Gifts made before January 31, 2011 qualify for the 2010 tax year. For the 2011 tax year, gifts must be made by December 31, 2011.

Important Guidelines
You can only make gifts under the new law in 2010 and 2011.


To take advantage of the tax-free gift opportunity, do not take a distribution and then make a gift. You must complete a gift to LHM by providing your IRA administrator with a letter of request for a charitable rollover from your IRA. LHM can provide you with a sample letter and directions (below) for submitting your request. A copy of your request letter should also be sent to LHM so that your gift can be properly credited.


The annual gift limit is $100,000 to all charities per person, per IRA.


You must be 70 ½ by the gift date to be eligible for the IRA gift opportunity.


The rollover gift will not be included in your income for income tax purposes. And the rollover gift is not tax deductible.


The rollover gift is not considered part of your 50 percent adjusted gross income (AGI) charitable deductions for the year.


The new rules apply only to outright lifetime transfers from IRA owners and are not applicable to transfers after the owner's death.


If there is more than 10 years' difference between you and your spouse, different rules apply. Please contact us for more information.
For additional information or for a sample copy of an IRA Rollover Request Letter, please contact Lutheran Hour Ministries' Ministry Advancement Officers at 1-877-333-1963 or send an e-mail to lhm-gift@lhm.org, or you can download them below:
2010 IRA Rollover Request Letter
2011 IRA Rollover Request Letter
These materials do not constitute tax or legal advice and are offered for illustration purposes only. You are always encouraged to consult your own financial or legal advisor.
For more information on IRA beneficiary designations, click here or call 1-877-333-1963.